In Switzerland, the topic of mobility has long since become a socially relevant issue. Cities struggling with traffic jams and are increasingly still being asked to initiate a net zero transport policy. These initiatives are indeed justified. In an international comparison, Switzerland has one of the most inefficient vehicle utilisation rates of all. An analysis by the Swiss Federal Statistical Office has shown that vehicles are stationary for an average of 23 hours a day and when in use, only about 1.6 seats are occupied. This corresponds to a combined load factor of only 1.6%. The increasing traffic jams on our roads – especially at rush hour – represent the result of this low utilisation.
Switzerland is indeed a country of car commuters. More than half of Swiss commuters use cars every day. This is relevant because just under a third of Swiss greenhouse gas emissions are attributable to car traffic. This means that both decarbonisation and increasing the capacity utilisation of mobility in Switzerland are likely to become important components of a sustainable economic strategy. Basically, the agenda for a transport turnaround in Switzerland is obvious.
The entire Swiss fleet of 4.7m passenger cars would have to be reduced. But change is rarely easy. The car has long since become a powerful symbol of our individuality, our self-determination and even our industrial culture. A crucial question arises from this realisation: What would make people voluntarily give up their own cars?
Who will do without their own car?
The answer should be obvious: In order to invite people to give up their own cars, the alternatives to owning a car must be expanded, improved and interconnected in a user-friendly way. "Use instead of own" is the motto. Mobility as a service is the term of the hour. It is not a question of whether public transport, shared e-bikes and e-scooters or car sharing would be a single alternative. It is much more about the digitally supported networking of a multimodal mobility chain with easy access. An interesting study by the consulting agency McKinsey confirms this potential: it shows that people's willingness for shared use of vehicles has increased. The study also shows that not only the ownership of a vehicle is relevant, but also the access to vehicles. But who offers this access to Mobility-as-a-Service solutions?
Companies as drivers of innovation
Innovative companies like Lonza and Roche are already working hard on new mobility models. In order to reduce private motorised transportation, they rely on multimodal, shared vehicle fleets – from e-bikes to e-cars, and e-scooters – which are then shared among employees according to user needs. In the process, fewer and fewer employees drive their own cars to work and instead share a variety of different mobility options. For the shared vehicles, there is a central car park, a maintenance and cleaning service and a user-friendly app with which the desired vehicle can be reserved at any time, unlocked, and seamlessly billed after the journey. The benefits for the companies are obvious: costs go down as there are not as many cars to buy, parking demand drops sharply as more people use fewer cars, and overall mobility-driven greenhouse gas emissions go down, especially if the shared vehicles are e-cars or e-bikes.
How costs, space and emissions are saved
In order to determine the benefits of the Urban Connect mobility platform, we conducted an employee survey at a client's premises to record commuting routes and the respective transport behaviour used before and after the introduction of the Urban Connect platform. The results are summarised in the following four sections.
1 Employers save space and costs and increase employee satisfaction
The results of the employee survey show that easy access to different mobility options has a large and positive impact on their mobility behaviour. In fact, a positive change was observed in over 68% of employees. In particular, employees save time, enjoy commuting more and use their personal cars less. These points are relevant because saving time on commuting increases employee satisfaction. Fun commuting may seem trivial at first glance, but it is precisely the key, based on current findings in behavioural research, how positive experiences can sustainably change employees' mobility behaviour. In addition, thanks to the reduced use of personal cars, companies need fewer parking spaces and thus save space and costs.
How has the Urban Connect mobility offer affected your mobility habits?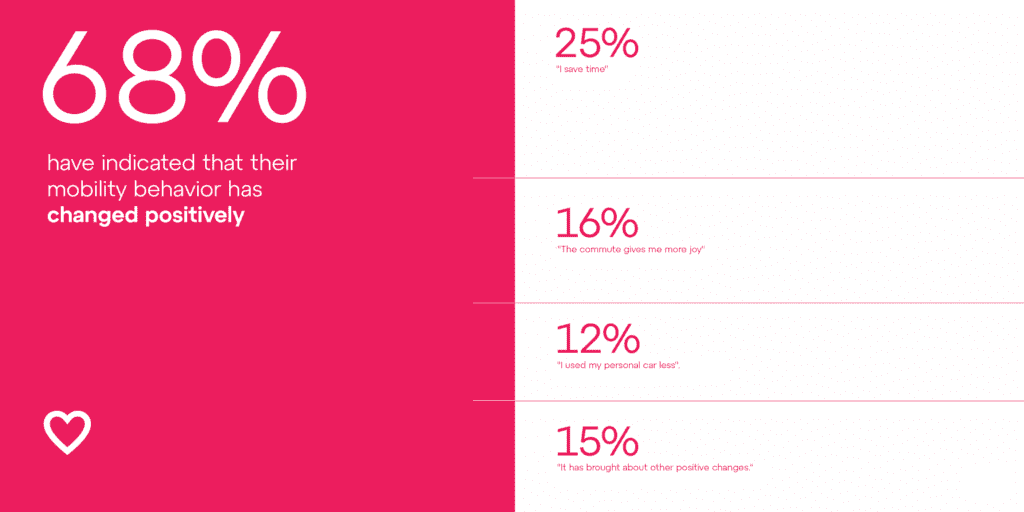 2 The share of commuting by car was reduced by over 26%.
Our client employs almost as many employees as inhabitants in a small town. This circumstance quickly led to traffic congestion and parking shortages because the local transport infrastructure is not designed for such high commuter flows. Together with our client, we were able to develop a mobility concept that promotes public transport and the use of shared e-bikes. The project was launched in 2021 with a small e-bike fleet and has since been expanded to 164 e-bikes. The offer is actively used by around 500 employees, with the e-bikes being booked over 900 times a week. The commuter flows have already been greatly disentangled and parking spaces saved. In fact, Urban Connect users have already been able to reduce the share of individual motorised commuter flows by over 26%.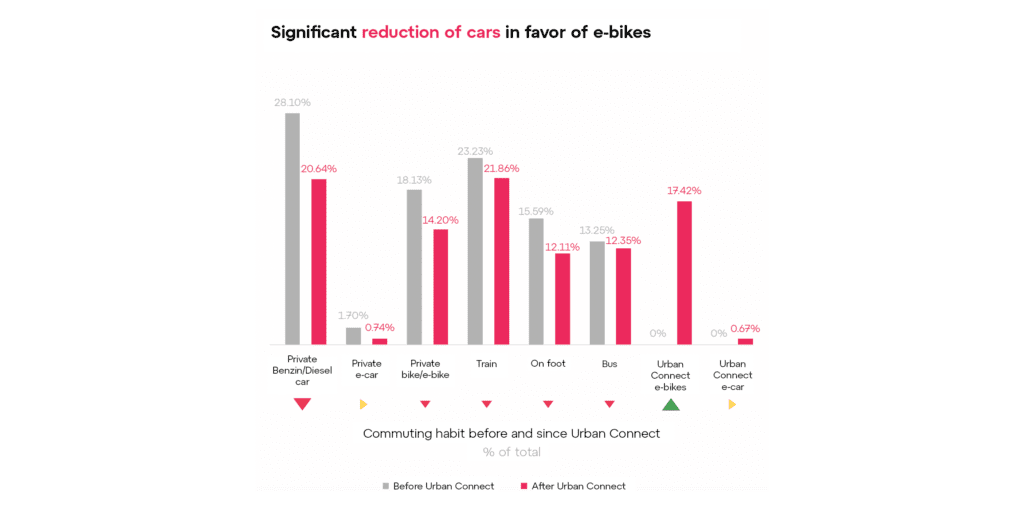 3 Commuters by car are the driving force behind the unbundling of transport.
The study results show that the provision of alternative mobility options has clearly greatly reduced commuting by private car. In fact, the number of people who never commute by car has increased by over 20%. In addition, the proportion of people who commute to work by car four or five days a week has been more than halved. These impressive results show that employees are willing to change their commuting behaviour if they are offered attractive alternatives.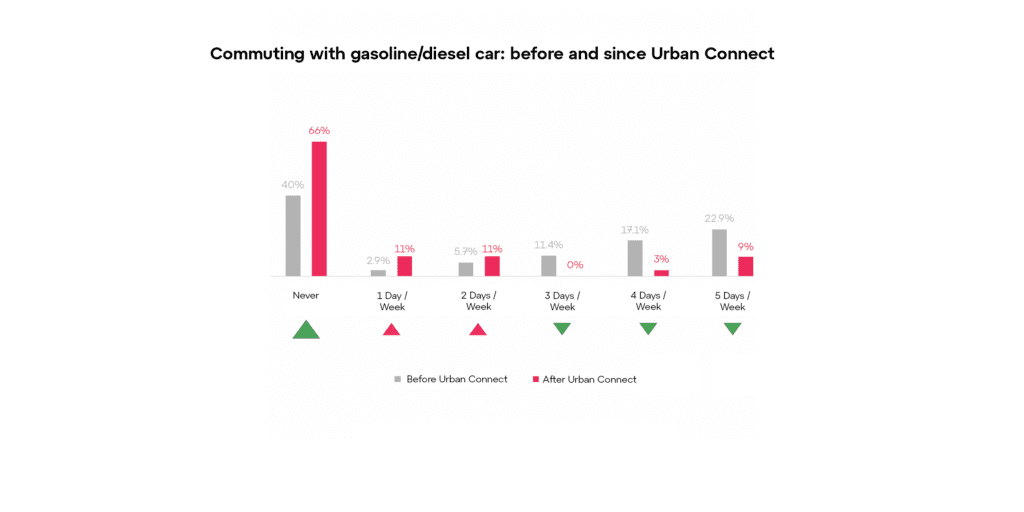 4 Climate goals in the mobility sector are becoming tangible thanks to digital innovations.
Digital innovation has also reached the mobility sector. Thanks to digitally cross-linked sharing platforms, it is possible to optimise the use of vehicles and also quantify CO2 emissions. The employee survey at our client illustrated the enormous CO2 savings potential. Evaluations have shown that with the mobility mix of the Urban Connect mobility platform, up to 160 tonnes of CO2 can be saved annually. This topic will also gain additional importance with regard to the ordinance on climate reporting that will come into force in 2024.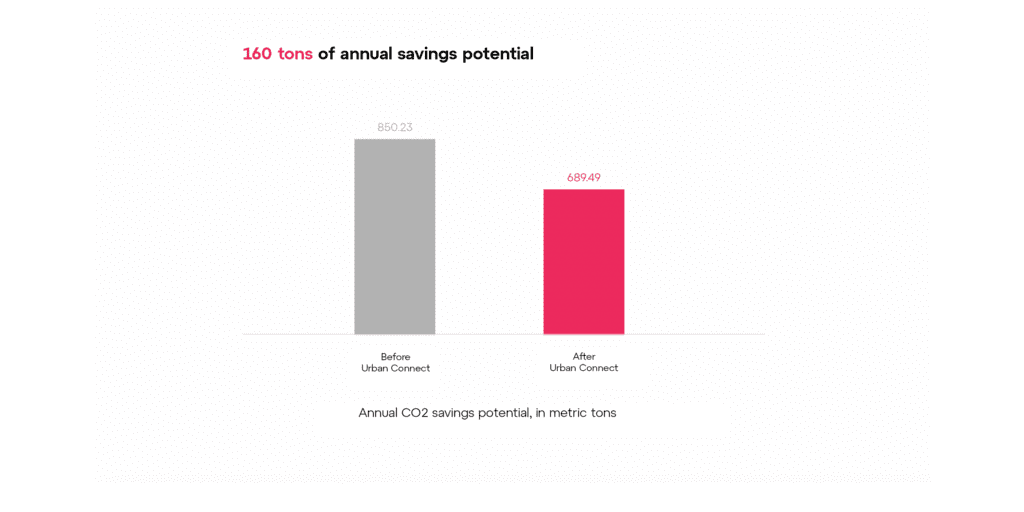 Urban Connect is the preferred partner for the implementation of corporate mobility.
These insights show that a systematically implemented mobility platform can ensure that vehicles are better utilised and electrified – and that employees adapt their mobility behaviour when attractive alternatives are made available. Thus, the decarbonisation of corporate mobility is also likely to become an important component of a sustainable economic strategy for large Swiss companies.